sManager, empowering small businesses
sManager, the most recent fast-growing concern of Sheba Platform Limited, continues its journey towards growth and creating impact through empowering MSMEs in Bangladesh. sManager has recently completed its first anniversary and has already become a family of 7 Lac+ digital entrepreneurs. But how exactly is sManager empowering these entrepreneurs? Let's dig a little deeper into the scenario.
It started off as a pocket ERP solution that can manage a business with the tools provided, mainly Daily Sales Ledger, Due Tracker, Inventory Management, and Customers Database. In time, the app has been updated with features like EMI and Digital Loan that have enabled users to increase sales and get access to formal credit channels through our partnered financial institutions. And now are improving their working capital and cash management now. sManager has also expanded its portfolio with a vast range of marketing services for SMEs at affordable prices so that they can get access to professional agency services to promote their product both online and offline, facilitating their business growth.
In line with the vision of creating a digital ecosystem of digital entrepreneurs, a community called "Amrai Digital Uddokta" was formed, where the micro-entrepreneurs with or without the app can connect. This community is patronized by sManager and had organized "Digital Uddokta Mela," which created business opportunities for 125+ Women Entrepreneurs and provided knowledge content for managing small businesses. It is now playing a learning platform's role enabling online workshops, information sharing, training sessions, and webinars on Branding, Logistics, Business Operations, Banking & Investment are being arranged. Campaigns organized from this community like "F-com of the Year 2021" have ensured that the micro-entrepreneurs get a platform for getting investment for their business ideas. Moreover, competitions like the "Short Video Contest" have inspired them to create innovative content to portray their product and services that connect with consumers.
sManager, the all-in-one mobile app for business operations, is always evolving and has introduced its flagship feature, the "Online Store." An MSME business owner can become a "Click & Mortar business from a Brick & Mortar with just a few clicks through this tool. A user can now create an E-commerce website in only 1 minute and share a link with his/her clients to showcase the products just like a traditional E-commerce site and receive orders. The process of creating an online business has never been this easy and simple.
The launching of "Online Store" took place on 3rd March 2021 at KIB Complex, Dhaka. Mr. Zunaid Ahmed Palak, Honorable State Minister, ICT Division, officially launched the flagship feature while Dr. Md. Masudur Rahman, Chairperson of SME Foundation, Ms. Tina F. Jabeen, MD & CEO of StartUp Bangladesh, Mr. Ilmul Haque Sajib, COO, Sheba Platform Limited, and Mr. Abdur Rahman Tanmoy, Head of MSME Business, sManager attended the ceremony along with other dignitary guests.
Mr. Palak, applauded sManager for empowering 7 lac+ MSMEs and continuously impacting their lives with simple solutions. Here he sees a huge scope of operational efficiency and growth through digital inclusion. Furthermore, he said, "We have been there with sManager when the journey started 14 months back, and we will continue our support in days to come with initiatives that will benefit for the MSME owners." Ms. Jabeen also addressed the importance of digital inclusion of this segment of our population and sees huge potential in sManager given the exponential growth in just 14 months. Mr. Rahman has been working closely with MSMEs through SME Foundation and mentioned the need for financial access, which gives us the confidence to continue our banking solutions journey.
"Online Store" is one unparalleled feature for MSMEs that open the window of opportunities in a 1-minute journey from analog to digital. Any store, lying in the corner of a street or a market, can enter the online market highway and start selling their merchandise to a limitless customer base waiting with unmet demand. Any shop will now reach out to consumers with few clicks; consumers will order from their website, and the merchant will track orders and payments in real-time. Collection of payments & arrangement of logistics has also been made convenient, as the merchant can provide multiple payment options to their customers.
Till now, Online Store has already been used by 30,000 micro-entrepreneurs who opened their first E-commerce website. Before the launch, this feature was handed over to 200 beta users who are members of the sManager community and were chosen through campaigns like Digital Uddokta Mela 2020 and F-com of the Year 2021. They used this feature to run their business and provided valuable feedback, which was adapted for improvement.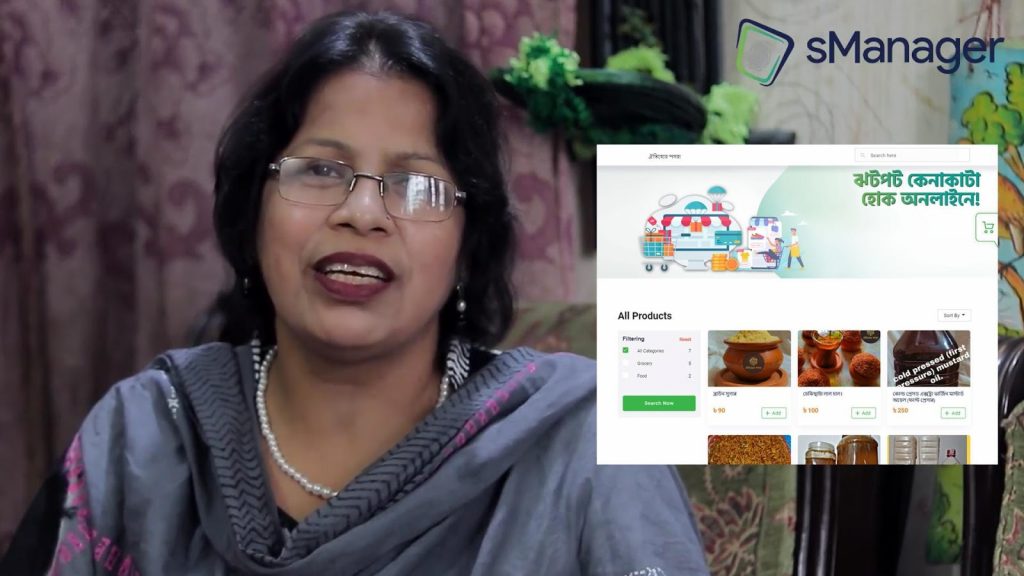 Mrs. Shahinur Khanom, Owner of "Oitihyer Poshra," and one of the Online Store's beta users, has expressed her gratitude towards sManager. She shared her past experience of managing a business where she had to face troubles while taking orders, replying to customers, and keeping track of orders. Sometimes after a long conversation, she could not close the sale due to barriers in receiving payments. She also faced an issue previously in showcasing her product and its details clearly. After using our solution, these problems have been successfully eliminated.
At sManager, we believe that this is just the beginning of a rewarding journey. Online Store is a step towards our bigger goal of digitalizing a large segment of MSMEs and improving their business efficiencies. Enabling their growth ultimately impacts their livelihoods. They can afford better food and education for their families – that is what we want to achieve by serving MSMEs in the nation.